Real Estate Closings and Provision of Title Insurance
The Firm represents and counsels clients in the purchase and sale of residential and commercial real property, as well as businesses. In doing so, we offer our clients our in-house title insurance service which provides clients with all the benefits of a title company plus the comfort of having our lawyers protecting their interests.
Our firm exclusively provides title insurance agency services and policies of insurance through First American Title Insurance Company, a Global Leader in Title Insurance and Settlement Services.
First American Title Insurance Company provides comprehensive title insurance protection and professional settlement services for homebuyers and sellers, real estate agents and brokers, mortgage lenders, commercial property professionals, homebuilders and developers, title agencies and legal professionals to facilitate real estate purchases, construction, refinances or equity loans.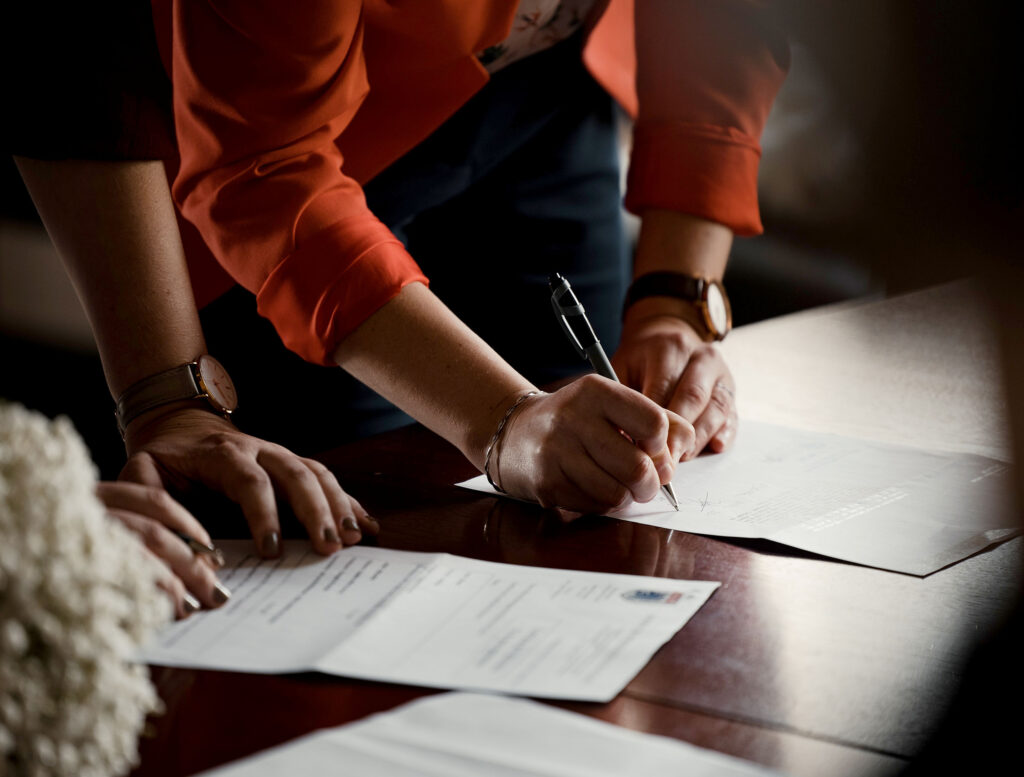 First American's thorough title searches, title clearance and title insurance policies help to produce clear property titles and enable the efficient transfer of real estate.
As one of the largest title insurance companies in the nation, First American offers insurance and settlement services through its direct operations and an extensive network of agents throughout the United States and internationally.
First American Title Insurance Company traces its history to 1889 and is the largest subsidiary of First American Financial Corporation (NYSE: FAF).
Title insurance in the United States is indemnity insurance against financial loss from defects in title to real property and from the invalidity or unenforceability of mortgage liens.
Title insurance is principally a product developed and sold in the United States as a result of the comparative deficiency of the U.S. land records laws.
It is meant to protect an owner's or a lender's financial interest in real property against loss due to title defects, liens or other matters.
Title Insurance will defend against a lawsuit attacking the title as it is insured or reimburse the insured for the actual monetary loss incurred, up to the dollar amount of insurance provided by the policy.
Typically, the real property interests insured are fee simple ownership or a mortgage. However, insurance can be purchased to insure any interest in real property, including an easement, lease or life estate. Just as lenders require fire insurance and other types of insurance coverage to protect their investment, nearly all institutional lenders also require title insurance to protect their interest in the collateral of loans secured by real estate.
Some mortgage lenders, especially non-institutional lenders, may not require insurance. Buyers purchasing properties for cash (without a lender) often want insurance as well.
Introduction to Title Insurance
The decision to purchase a home (or other real property) is probably the largest and most important financial decision you will make. You and your lender will want to make sure that title to the property is indeed yours and that no one will have liens, claims, or encumbrances on your property
Title insurance guarantees against losses from any defects in title that may exist in the public records at the time you purchase that property, and certain other risks described in the title insurance policy.
Possible title defects include:
Errors or omissions in deeds
Mistakes in examining records
Forgery
Undisclosed heirs
Missing heirs
Liens for unpaid taxes
Liens by contractors
Before issuing a title insurance policy, title companies check for defects in your title by examining public records including deeds, mortgages, wills, divorce decrees, court judgments, tax records, liens, encumbrances, and maps. The title search determines who owns the property, what outstanding debts are against it, and the condition of the title. Title companies also handle property closings and hold earnest money in a trust account, also known as an escrow account, until the purchase is complete.
What is Title Insurance?
This insurance is a contractual obligation that protects against losses that occur when title to a property is not free and clear of defects (e.g. liens,  encumbrances and defects that were unknown when the title policy was issued). The terms of the policy define what risks are covered and what risks are excluded from coverage. The title insurer will reimburse you for losses that are covered, up to the face amount of the policy, and any related legal expenses. This protection is effective as of the issue date of the policy and covers defects arising prior to your ownership.
Title companies issue policies on all types of real and personal property. Two types of policies for real property are common: a lender's policy and an owner's policy.
How is Title Insurance Different from Homeowner's Insurance?
Title insurance protects against losses due to defects in title. Before issuing a policy, title companies search and examine public records and, in certain circumstances, survey the property to identify liens, claims or  encumbrances on the property, and alert you to possible title defects. The premium cost is a one-time fee payable at the time of escrow closing.
In contrast, homeowner's insurance insures your house and contents and may provide coverage for losses due to fire or lightning, theft, vandalism, and personal liability claims against the policyholder. Homeowner's premiums are often billed monthly, quarterly or annually and installment payment options are often available.
Who Does Title Insurance Protect?
Title insurance protects you and your lender if someone challenges the title to your property. This may be in the form of an alleged title defect, which was unknown to you at the time you purchased the property but came to light at some future date during your ownership of the property. A policy contains provisions for the payment of losses which result from a covered claim. The title insurance policy also covers legal fees in defense of a claim against your property.
Coverage can benefit the homeowner or the bank or mortgage company (lender).
and restrictions, damage due to water and mineral development, and accuracy of boundaries. Be sure to discuss available optional endorsements with your title insurer or escrow officer.
Who Should Purchase Title Insurance?
Lenders require this insurance as a condition for your loan. Two types of policies are available: an owner's policy and a lender's policy. A lender's policy ensures that the lender's security interest in the property has priority over claims that others may have in your property. A lender's policy does not protect you. Similarly, the prior owner's policy does not protect you. If you want to protect yourself from claims by others against your new home, you will need an owner's policy. An owner's policy ensures the buyer for as long as he or she owns the property. This protection is limited to the value of the property.
It is usually less expensive to purchase a lender's policy and owner's policy at the same time from the same title insurer. Contact your title insurer for additional information.
How Much Title Insurance Will I Need?
The homebuyer should ensure the full purchase price of the property; the lender only requires title insurance to cover the amount of your loan.
Who Pays the Premium for the Title Policy?
In Florida, settlement practices vary from locality to locality. The party that pays the title premium is a matter of local custom and practice and not set by law. Depending upon the region, the premium for a title insurance policy can be paid by the buyer or the seller or split between both parties. In Southern Florida, the seller customarily pays the premium for title insurance. The parties are free to negotiate a different allocation of fees.
How is the Premium Determined and When is it Paid?
Premiums are based on the dollar amount of coverage provided. Every title insurance company is required to file its schedule of rates, forms, and rate modifications with the Insurance Commissioner before the rates can be used. Premiums are paid once at the closing and time of transfer of title.  There are no continuing premiums like other types of insurance.