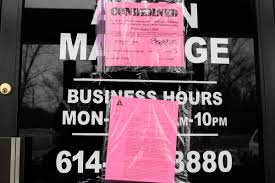 If you have been charged with a prostitution related crime, you need hire a highly experienced defense attorney NOW!
This week south Florida news has been headlined with "PROSTITUTION TRAFFICKING BUST CHARGES MANY WITH SOLICITATION." If you think you may be charged criminally – CALL IMMEDIATELY.
So much more can be done for you if you have advance guidance from a highly experienced criminal attorney.
Palm Beach Post, Thursday, February 21, 2019 – "As part of a multiagency investigation, Jupiter police arrested Hua Zhang, 58, on Tuesday…..Martin County Sheriff William Snyder said about 100 men in all will face charges as a result of the eight-month investigation." Indian River County is planning to arrest as many as 200 people as a result of their investigation. Palm Beach County is not going to be far behind in possibly announcing the names of hundreds of men who are being charged with criminal solicitation .
If you are one of the men likely to be charged, whether you are in Palm Beach, Martin, St. Lucie or Indian Rover Counties, you need to be prepared – NOW. Do not wait for the Sheriff's deputies to pull up to your residence with reporters and TV crews in tow. Call our experienced attorneys now and get the advice you need.
What is Solicitation for Prostitution?
A person could be charged with solicitation if they encourages a person to engage in sexual acts, F.S. § 796.07. The offense is considered a misdemeanor. It is not necessary for money to change hands, only the offer of money needs to be made. It is not necessary that a sexual act be committed, or that the person solicited actually be willing or able to commit the crime of prostitution.
Solicitation of a prostitute is a second-degree misdemeanor for a first violation, which could mean up to 60 days in jail, a fine of up to $500 or both. A second offense is considered a first-degree misdemeanor, which could include up to one year in jail, a fine of up to $1,000 or both.
Florida's Statute on Prostitution (§ 796.07) imposes a civil penalty in addition to the criminal penalties. Any person who would, "…solicit, induce, entice, or procure another to commit prostitution, lewdness, or assignation" is subject to a $5000.00 civil penalty if the violation results in any disposition by the court other than an acquittal or dismissal of the charges. This means that even the normally beneficial result of a Withhold of Adjudication will not avoid the $5000.00 civil penalty.
Other consequences could include:
Publicity of the crime via local media including TV and newspaper
Booking photo and information being available online
Mandatory health test
Impounding of vehicle if used in the commission of the crime
Issues with employment
Prosecutors must prove certain aspects of a case in order to successfully convict a person accused of any crime. For prostitution, the prosecution must usually prove that the defendant intended to engage in the acts of prostitution with the person selling their body. Additionally, the prosecutor must show that the alleged prostitute communicated the financial arrangements with the defendant. Both sides must be agreeable for an act of prostitution to have been committed.
In certain instances the prosecutor may alternatively prove that the defendant agreed to engage in sexual conduct or lewd behavior. Intention to participate in prostitution with another person is part of the crime as well as the exchange of money, services or goods. Willful engagement of sexual acts for this money, service or good must be proven with the actual exchange. The willful and intentional participation in these exchanges needs to be proven through the interaction between the two parties engaged in this exchange.
Potential Defenses
Building a strong defense is critically important. In solicitation cases we can begin discussing the facts of your case to determine defenses available to you. Some possible defenses could include:
Entrapment– If you were enticed to commit a crime you otherwise would not have done
Investigative Mistakes by Law Enforcement
Mistaken Identity
Miranda Rights– If you were not properly read your Miranda Rights, incriminating statements you may have made to law enforcement may not be admissible in court.
Our attorneys are highly experienced with more than thirty years' experience defending criminal matters. We will make all possible efforts to prepare and file any necessary motions to dismiss or motions to attempt to exclude evidence in an effort to maximize your opportunity for a positive outcome. We will work very hard to ensure your rights are fully exercised and that you are well represented.
CALL NOW 561 748 8000